Dear Valued Friends and Colleagues in AAHRMEI,
I wish to extend to you and your faculty members the invitation to an international seminar that could help us out in carrying ourselves professionally. Oftentimes, we just cannot immediately immerse ourselves with a group of corporate personalities. We are doubtful if our actions and statements are acceptable in the society that we are exposed to.
Before we could utter a word, we are already judged with the way we look and carry ourselves, and it would take time to change such image then. As administrators and teachers, we must be the models for the rest of the students, so as to help them prepare for their exposure to the industry. It is my sincerest desire to develop us all together and be competitive in the business world.
Let us learn from a certified international image consultant and trainer with a minimal cost of P3,000 that would include an afternoon snack and a certificate of attendance if we pay not later than August 15, 2017. There are limited slots of 50 for our group.
Please signify your participation at the soonest time possible. Thank you for your kind support.
Very truly yours,
Dr. Gloria Baken Wong-Siy
About the Speaker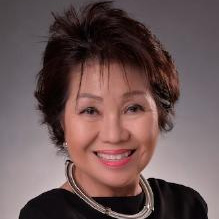 Minette J. Sison has given several talks in the areas of Fashion, Personality Development, Business Etiquette, Social Graces, and Civility since 2000 up to the present. Talks were given to several groups of different sectors such as Medical doctors and associations; Banking, insurance, real estate, pharmaceutical, and manufacturing corporations; Schools, private & state colleges, universities, both for students, faculty & administrative staff, Government and private organizations, and Many women civic, social groups of different sectors.
She is a CERTIFIED IMAGE CONSULTANT/FASHION STYLIST/TRAINOR after completing her course in February, 2012 at the Fashion Image Institute of Gillian Armour in San Francisco, California, USA;
She is a COLOR SPECIALIST after completing her course in April, 2014 at the International Image Institute of Karen Brunger, Toronto, Canada.
She was unanimously voted CHAPTER MEMBER OF THE YEAR 2014 by the AICI, Philippine Chapter last August, 2014.